Caps and plugs: PVC vs TPE

What are the differences between PVC & TPE?
Both polyvinyl chloride (PVC) and thermoplastic elastomer (TPE) are materials used for caps and plugs. PVC is incredibly versatile and can be formulated to be rigid or soft. It's PVC's flexibility and high mechanical strength that makes it a popular choice for caps and plugs.
Like PVC, TPE is also versatile. TPE combines all of the performance advantages of rubber with the easy processing of plastics. Yet TPE is not as commonly used for caps and plugs as PVC, and there are good reasons for this, even though both are flexible.
First, let's look at the materials individually to understand their characteristics.
PVC explained
PVC is second only to polyethylene as the most manufactured plastic in the world, says the British Plastics Federation. PVC is compatible with a range of additives, which is what makes it so versatile. These additives include heat stabilisers, lubricants, and plasticisers. The latter is responsible for giving PVC its flexibility. You can also add impact modifiers, fillers, nitrile rubbers, just to name a few.
PVC is also low cost compared to other plastics, including TPE. For that reason, and its versatility, you'll find PVC in everything from window frames and drainage pipes to fashion and footwear. It's durable, resisting weathering and corrosion, which makes it an excellent choice for outdoor applications.
PVC Advantages
High density means it resists impact deformation as compared to most other plastics
Durable, resisting weathering and corrosion, which makes it an excellent choice for outdoor applications. According to a paper by the University of Bologna, a measurement taken by the Japan PVC Pipe and Fittings Association showed no deterioration in 35-year-old underground pipes
Excellent cost-performance advantages, with long life span and low maintenance
Low thermal conductivity
Good dialectic strength. Does not conduct electricity, making it an excellent material for electrical applications, e.g. insulation sheathing for cables, especially when combined with its fire-retardant properties
PVC Disadvantages
Limited thermal capability, though additives can stabilize PVC at higher temperatures
Higher density than many plastics, which can be an advantage if that's what you want. If it's not, consider another material
Emits toxic fumes when melted, which makes it less than ideal as a material for injection moulding
Not a good material for CNC machining unless the cutter is made from stainless steel. PVC is corrosive and abrasive and can cause any other cutter to deteriorate over time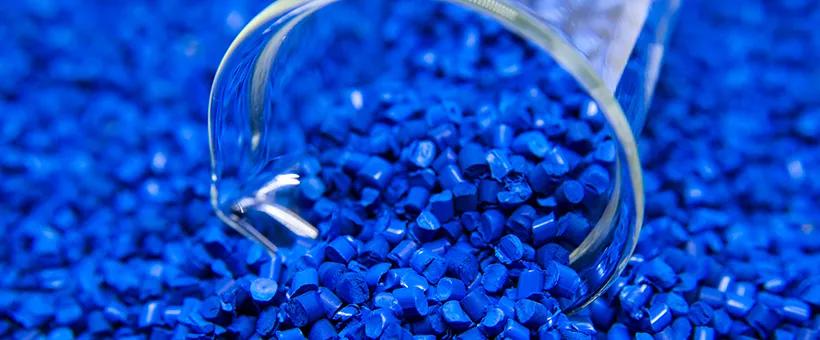 TPE explained
TPE is popular with appliance designers and engineers. Some of its applications include HVACs, electronics, consumer goods, and medical equipment. Interestingly, TPE can be formulated to have the look and feel of PVC, though not quite the same properties, with a broader temperature range.
Because TPE is a rubber-like material, it's often confused with thermoplastic rubbers (TPR) – our handy guide can explain the difference.
TPE offers good ductility and is non-toxic, which is why the medical industry relies on it so much. Besides medical supplies, you'll find TPE in sporting goods, tools – such as handles – phone cases, computer keyboards, and automotive parts. In fact, around 40% of all TPE products are used in manufacturing vehicles, according to researchers Ceresana.
TPE advantages
Excellent flexural fatigue resistance
Good tear and abrasion resistance
High impact strength
Excellent resistance to chemicals
Withstands weathering, including outstanding ozone resistance, which makes it a great choice for outdoor applications
Good electrical properties
Flexible
Low density and thinner wall sections equals low cost
Lower energy costs versus thermosets for processing, as cross-linking is avoided, achieving faster cycle times
TPE disadvantages
Extensive heat aging causes severe change in mechanical properties
High cost compared to some plastics
TPEs tend to creep under sustained pressure and temperature, meaning it can move and deform.
PVC and TPE: how do they compare?
The next question is how do they compare to each other? It helps to look at their characteristics in various environments:
| | | |
| --- | --- | --- |
| | PVC | TPE |
| Tensile Strength | 2.60 N/mm² | 0.5 – 2.4 N/mm² |
| Notched Impact Strength | 2.0 – 45.0 Kj/m² | No break Kj/m² |
| Thermal Coefficient of expansion | 80 x 10-6 | 130 x 10-6 |
| Max Cont Use Temp | 60˚C / 140˚F | 140˚C / 284˚F |
| Density | 1.38g/cm3 | 0.91 - 1.3 g/cm3 |
Resistance to chemicals:
| | | |
| --- | --- | --- |
| | PVC | TPE |
| Dilute Acid | Very good | Excellent |
| Dilute Alkalis | Very good | Excellent |
| Oils and Greases | Good (variable) | Excellent |
| Aliphatic Hydrocarbons | Very good | Excellent |
| Aromatic Hydrocarbons | Poor | Poor |
| Hydrogenated Hydrocarbons | Moderate (variable) | Poor |
| Alcohols | Good (variable) | Excellent |

How does this translate to caps and plugs?
Both PVC and TPE caps protect applications from contaminants. They share similar properties, but PVC is plentiful, so it's economical and has a cost advantage over TPE, which makes it more commonly used as caps and plugs.
PVC caps and plugs easily handle the demands of the masking process, which makes it ideal for these applications:
Power coating
E-coating
Anodizing
Wet paint
Blasting
TPE has more specialist applications as caps and plugs. For instance, consider flexible end caps. These are generally used for masking and are available in either PVC or TPE. The TPE version is acid resistant and does a better job of standing up to oil and greases, which makes them ideal for the automotive industry.
Both are used extensively in electrical applications, where caps play an important role. Here's a look at their general performance in cable management applications:
Resistance

PVC

TPE

Oxidation

Excellent

Best

Heat

Good - Excellent

Best

Oil

Fair

Best

Low-temperature flexibility

Poor - good

Best

Weather, including sun

Good - excellent

Best

Ozone

Excellent

Excellent

Abrasion

Fair - good

Excellent

Electrical properties

Fair - good

Excellent

Flame

Excellent

Best

Nuclear radiation

Fair

Poor

Water

Good - excellent

Best

Acid

Good - excellent

Best

Alkali

Good - excellent

Excellent

Gasoline

Poor

Excellent

Benzol

Poor - fair

Excellent

Degreaser solvents

Poor - fair

Excellent

Alcohol

Good - excellent

Excellent

More examples of TPE caps and Plugs
Quick release caps for hydraulic applications are the female fitting for quick acting couplings. They protect hoses from damage, dirt, moisture and corrosion. They can withstand demanding usage and handle harsh fluids, which is why they're particularly liked by the construction and manufacturing industries.
Quick release plugs also provide excellent protection from damage contaminants. TPE is ideal for these applications, inside or outside, and can prolong the life of your couplings.
TPE also has excellent resistance to water, which is why it works so well as a hose washer cap. It keeps a dishwasher or washing machine's tube or hose from sliding over the fittings.
Body plugs are primarily used by the automotive industry, filling cavities on sheet metal. TPE works well because the plug is exposed to harsh external elements.
Straight tip (ST) connector dust cap with a lanyard is an example that shows TPE's fantastic versatility when it comes to applications, this time, in cable management. TPE has excellent electrical properties, which makes it the perfect dust cap for ST connectors, providing protection from contaminants that can scratch fibers or cause damage.
More examples of PVC caps and plugs
PVC is even more versatile than TPE. Parallel protection plugs are an example of PVC in an electrical application. They're resistant to shredding, protect connectors and add an aesthetic look to the finished job.
Masking is an area where PVC really shines. For example, flexible end caps provide a tight fit during the masking process, protecting threads from contaminants.
Pull tab caps are quick and easy to remove with a large pull tab. Available in different materials that provide good tensile strength and toughness, PVC's flexibility makes it especially easy to use.
Butt-weld fittings are intended to have a long service life, and butt-weld caps made of PVC can help that happen, offering protection from damage and dirt and moisture ingress. Easy to apply, these caps stretch onto larger dimensions for a snug fit while saving labor assembly costs.
To secure matching bolt hole flange protectors, flange protector retainer plugs are easy to use. The reason again is the material. Flexible PVC allows you to insert the protective discs to the flange face without any hassles.
In the end, you have two materials that are quite similar in certain conditions and applications. Your choice might come down to price, or specific properties. Either way, it's hard to go wrong with either material.
Download free CADs and try before you buy
Free CADs are available for most solutions, which you can download. You can also request free samples to make sure you've chosen exactly what you need. If you're not quite sure which solution will work best for your application, our experts are always happy to advise you.
Whatever your requirements, you can depend on fast despatch. Request your free samples or download free CADs now.
Questions?
Email us at sales@essentracomponents.com or speak to one of our experts for further information on the ideal solution for your application 800-847-0486.