A guide to cap nuts

What is a cap nut?
A cap nut, or nut cap as some call it, is a fastener with multiple purposes. In this guide, we'll cover:
They all give you these advantages:
Cover exposed nuts, rods and bolts, providing a clean appearance
Protect the sharp edges of fasteners from damage
Protect people who might come into contact with exposed edges
Aid in the application's insulation, depending on material
Protect fasteners from weathering, depending on material
Protect against tampering
Capped nuts – another common name for them – are commonly found in automotive applications. The use tends to be as a decorative cap nut to give applications a finished look. The construction industry typically uses them for the protection they provide. Machinery also uses cap nuts. Depending on the position of the bolt, you can use any type of cap nut as space allows. The end story is, wherever bolts, nuts and rods are exposed, cap nuts are used to protect threaded fasteners, from construction and machinery to cabinets.
Usually, cap nuts are dome nuts, or more specifically, domed hex nuts. They're sometimes called acorn nuts, which are in fact a type of nut cap. Perhaps the easiest way to describe a cap nut is that it's a standard hex nut that, instead of being through tapped, is closed end.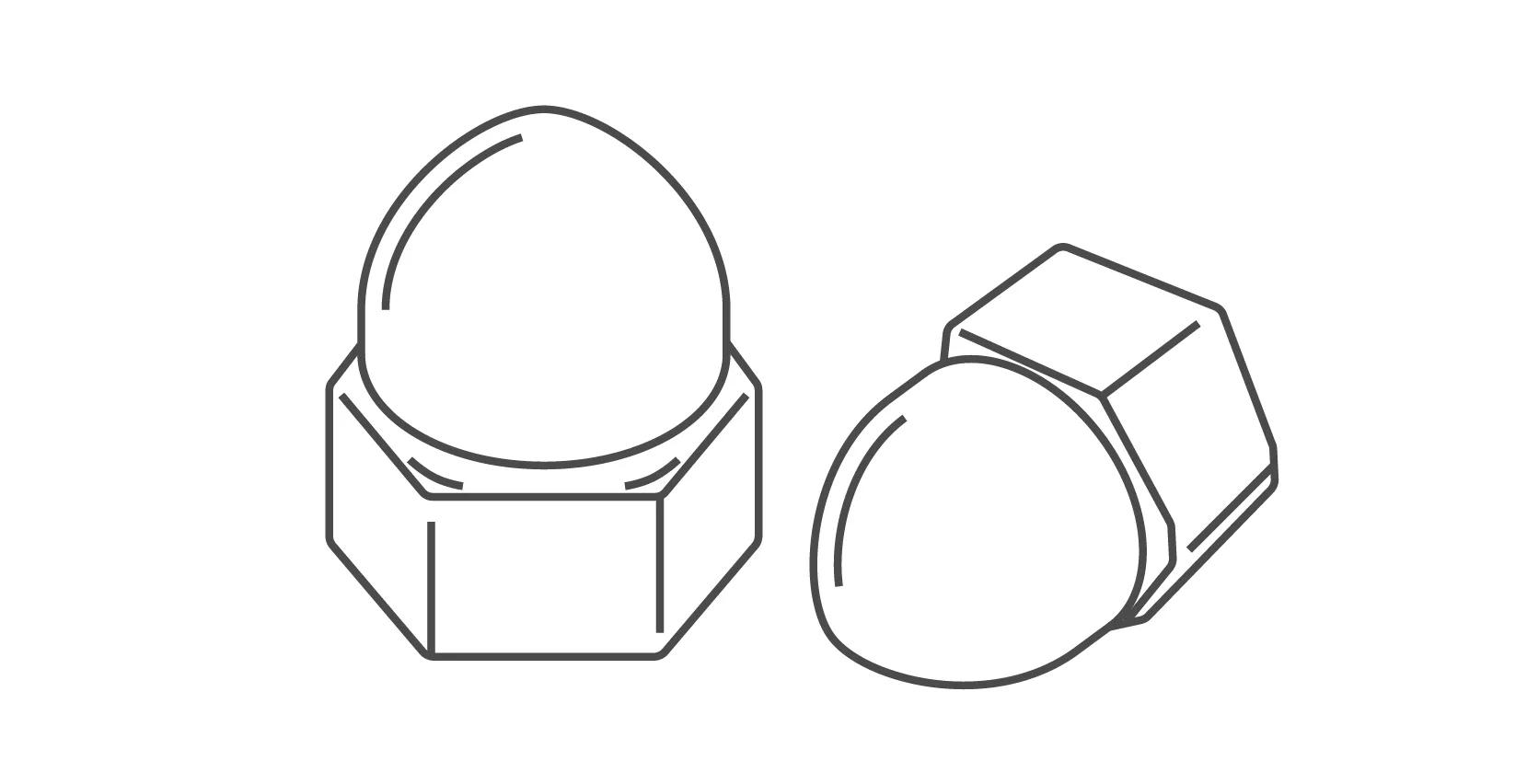 Acorn cups have a pointed dome with a high crown, as shown here. They serve a slightly different purpose than a dome cap. Acorn cap nuts have more internal depth, which enables you to thread the bolt further into the nut without touching the cap.
With cap nuts, the bolt's external threads touch the cap. If the application involves vibration, this can lead to excessive wear. The acorn nut is used to avoid contact with the bolt, preserving the threads.
Not all cap nuts are domed nuts, as shown here. While they all provide protection, they're also decorative cap nuts.

UV resistant
Ideal for outdoor applications
Push nut cap for quick installation
Available as white or black dome nuts
LDPE

Available with or without molded-in locking thread
Hex cap with locking thread ideal when requiring torque for a more secure assembly
Nylon 6/6
UL94 V2

Snap-on nut caps
Covers exposed bolts, screws, and nuts
Snaps into place with ease
Taller nut caps ideal for longer lengths of exposed bolts
LDPE

Nut protection caps
Push fit for easy application
LDPE
Excellent chemical and environmental resistance
Available in black, white and gray

Metal dome nuts
Threaded hex cap nut
Available as mild steel or stainless-steel cap nuts
Rated three-A hygienic option, ideal for medical and food industries
A push-fit cap nut is positioned over the stud and pressed down either by hand or with a light tap of a rubber mallet. If the cap nut is threaded, they simply screw onto the bolt and tighten with a wrench or allen key.
Nut caps are easily removed. A push with your fingers or a light tap with a rubber mallet will release the nut cap. How to remove a cap nut if it's metal is also simple. Apply lubricant and loosen with a wrench or allen key.

Plastics and metals are both popular choices for cap nuts. For decorative purposes, stainless steel is extremely popular, which is why it's the material of choice for automotive applications, such as emblems. Stainless steel also resists corrosion, with some grades doing a better job than others.
You can learn more in our guide, Understanding stainless-steel guides.
Mild steel is another metal often used to make cap nuts. It's a low-carbon steel, meaning it's more vulnerable to corrosion unless it's been properly coated.
Brass dome nuts are used mostly for aesthetic purposes. If you want thermal or electrical conductivity, it's a good choice. It also resists corrosion.
Plastic dome nuts are corrosion resistant, too, while some are formulated to stand up to UV. An LDPE or nylon dome nut is also excellent if you're looking for more insulation for your application, or resistance to vibration. So what then, is the difference between nylon and LDPE?
Properties
Nylon 6/6
LDPE
Tensile strength – pull apart (psi)
12,400
1,400
Dielectric strength – insulation (v/mil)
300 – 400
460-700
Bending stiffness (psi)
410,000
30,000
Resistance to chemicals
Dilute acids
1
3
Dilute alkalis
2
1
Oils & greases
5
2 (variable)
Aromatic hydrocarbons
5
1
Halogenated hydrocarbons
3 (variable)
1
Alcohols
1
5
1=Poor/ 2=Fair / 3=Good / 4=Very good/ 5=Excellent
Keep in mind that cap nuts are just like regular nuts but with a dome, or cover, on one side. They are therefore measured the same way. Sizes refer to the nominal thread diameters.
When sizing, you need to understand how to measure the threads of the bolts and nuts you'll need. We walk you through this in our guide, What are the different types of nuts and bolts?
With cap nuts, you'll also have to pay attention to the overall height to ensure your bolt will fit inside.
Measuring the flats
You'll also want to measure the flat of the dome nut. This is your diameter. Turn the cap nut over and measure from one end to the side opposite of where the tape is. Metric sizes are becoming more common in the U.S., so we'll show you examples of sizes for both systems.
Metric nuts:
Metric cap nuts, like imperial, come in a variety of sizes. You can get an M4 dome nut, M6 dome nut, M10 dome nut, and so on. Example sizes include:
Millimeters
| | | |
| --- | --- | --- |
| Size | Across the flats | Overall height |
| M3 | 6.0 | 5.93 |
| M4 | 7.0 | 7.96 |
| M5 | 8.0 | 9.90 |
| M6 | 10.0 | 11.82 |
| M8 | 13.0 | 14.96 |
| M10 | 17.0 | 18.03 |
| M12 | 19.0 | 21.93 |
Imperial nuts:
The benefit of using metric fasteners is that that it gives you a global market for your application, while making it easier to work with partners in other regions around the world. Only the U.S. uses the imperial system. If that's the system that best suits you, here are some example sizes for dome nuts:
Inches
| | | |
| --- | --- | --- |
| Size | Across the flats | Overall height |
| 6-32 | 5/16 | 1/4 |
| 8-32 | 5/16 | 1/4 |
| 10-24 | 3/8 | 9/32 |
| 10-32 | 3/8 | 11/32 |
| ¼-20 | 7/16 | 21/64 |
| 5/16-18 | 9/16 | 3/8 |
| 3/8-16 | 5/8 | 27/64 |
| ½-13 | 3/4 | 9/16 |
| 5/8-11 | 15/16 | 51/64 |
Download free CADs and try before you buy
Free CADs are available for most solutions, which you can download. You can also request free samples to make sure you've chosen exactly what you need. If you're not quite sure which solution will work best for your application, our experts are always happy to advise you.
Whatever your requirements, you can depend on fast despatch. Request your free samples or download free CADs now.
Questions?
Email us at sales@essentracomponents.com or speak to one of our experts for further information on the ideal solution for your application 800-847-0486.