A guide to rubber grommets
What is a rubber grommet? These are tubes, or edging, used to cover the rough and sharp edges of a panel hole.
Rubber grommets grip wires and cables that pass through the hole, keeping them secure while protecting them from abrasions, cuts and snags. At the same time, they also protect wires and cables from liquid and dust ingress. In this article we will talk about:
They're used in almost every industry and application, ranging from vehicle rubber grommets to grommets for back boxes. Those industries include:
Electronics
Automotive
Aircraft design
Construction
Data centres
Telecommunications
Medical equipment
Office furniture
Rubber grommets are also ideal for reducing vibration, which makes them especially useful to the automotive and electronic industries. If cables are involved, there's a good chance you'll find this critical cable management solution.
Before we look at types, we should talk about materials, which can dictate what the grommet should be used for.
"Rubber grommets" also refer to those made of synthetic rubbers. The most well-known ones include neoprene grommets, nitrile rubber grommets and silicone grommets.
There are four other materials you should know about are:
Ethylene propylene diene monomer (EPDM)
Thermoplastic elastomer (TPE)
Thermoplastic vulcanizate (TPV)
Styrene butadiene rubber (SBR)
EPDM: The next-generation of ethylene-propylene rubber. It provides excellent electrical insulation and resists weathering, which makes it ideal for sealing purposes. It's also why this synthetic rubber is an outstanding material for grommets.
TPE: Designers are also opting for TPE for the cost savings while still getting the rubber-like characteristics they're after. TPE offers good electrical properties and excellent resistance to flexural fatigue, chemicals and weathering.
TPV: This is a type of TPE and also called TPE-V. Its characteristics are more similar to EPDM, making it an excellent choice for sealing applications. It's especially popular with the automotive industry for under-the-hood applications – for example, as a radiator rubber grommet – and where heat resistance and the ability to perform in oily environments is necessary.
SBR: is a cost-effective choice that's very similar to nitrile rubber, with nitrile being a bit softer. SBR is primarily used in applications where hoses, gaskets, belts and seals are required.
Materials at a glance:
You can learn more about materials in our Ultimate guide to cable management.
| | | | | | |
| --- | --- | --- | --- | --- | --- |
| Material | Impact Strength | Operating temperature range | Resistance to chemicals | Resistance to weathering | Resistance to tears & abrasion |
| EPDM | Very good | -51°C - 148°C | Good to excellent | Good to excellent | Good |
| TPE | Excellent | -30°C - 140°C | Excellent | Excellent | Good |
| TPV | Good | -60°C - 135°C | Excellent | Excellent | Good |
| SBR | Excellent | -51°C - 121°C | Fair | Fair | Fair to good |
Electrical rubber grommets will sometimes carry IP ratings. Sometimes this relates to indoor applications but more often it's relevant to outdoor uses. IP stands for ingress protection, or international protection. If you're designing an IP-rated electrical enclosure, you'll need IP-rated components. To learn what IP ratings mean, and their approximate NEC equivalents, check out What are NEMA and IP ratings?
Types and uses
Now let's look at different types of rubber wire grommets, as they're often called.

These fit a range of cable diameters. They're tapered to allow you to use thicker cables. Or, you can cut to the size you need. Usually used in panels and HVACs, and can act as a rubber grommet blanking plug until cut. In the example on the left, the grommet hole is angular to allow the wire to pass at a 45-degree angle. Made of EPDM

Ideal for applications where space is limited, such as control panels. These are quick and easy to install without the need for tools. They're especially suitable for unthreaded holes. Made of TPE and polypropylene. Rated IP66.

Easily snaps into round holes and withstands vibration. These waterproof cable grommet are rated IP 67 for outdoor use and made of EPDM. They also perform in oily and greasy environments.

Designed to snap easily into place in sheet-metal holes. This common type is made in a range of materials, including SBR and for automotive applications and junction boxes, TPV. TPV works particularly well as rubber chassis grommets and as rubber grommets for socket boxes.

Tapered for quick installation. This type of grommet is typically used on panels and enclosures. Available in TPE or silicone, which is an excellent material for sealing. Silicone also excels as a heat-resistant rubber grommet.
This type of rubber cable grommet contains a thin, central film, which can be pierced to allow different-sized wires to pass through into an enclosure or through a panel. Also typically used in control systems. Available in TPE.

Protects longer runs of wiring or cabling along rough edges. These come in rolls, enabling you to cut to your desired length. Edging is often used as automotive rubber grommets, and on enclosure panels. Available in TPE.

Now that you have an idea of the types, let's go back to materials. Here are the industries that depend the most on these synthetic rubbers:
| | | | | | | | | |
| --- | --- | --- | --- | --- | --- | --- | --- | --- |
| Material | Automotive | HVAC | Construction | Industrial | Electronics | White goods | Agriculture (pipe seals & fluid-contact products) | Medical |
| EPDM | ✔ | ✔ | ✔ | ✔ | | | | |
| TPE | ✔ | | ✔ | ✔ | ✔ | ✔ | | ✔ |
| TPV | ✔ | | ✔ | | ✔ | ✔ | ✔ | |
| SBR | ✔ | | | | | | | |
Round rubber grommets are the most common shape. Along with oval rubber grommets, also called oblong rubber grommets, they're used in automotive, electrical enclosures – generally, for any panel in any industry.
Square rubber grommets and rectangular rubber grommets tend to feature on office furniture, such as computer desks. Here again, round grommets are common for furniture applications. For example, round rubber grommets for glass table tops are common. Finally, D-shaped rubber grommets are mostly used in machinery, computers and as automotive spare parts.
This is straightforward: measure the panel. You'll need to know panel thickness and the size of the hole that the grommet will fill.
Rubber grommets come in different sizes and thicknesses. You can find a 1/2" rubber grommet and 3/4" rubber grommet. They go up to a 4" rubber grommet and 6" rubber grommet and beyond. Once you have the measurements of the hole you need your grommet for, look at the manufacturer's grommet sizes.
The example below shows you how Essentra Components displays the information for you. This is for an IP 67 sealing grommet. You can see the important information you need at a glance, including the compatible cable diameter and panel thickness.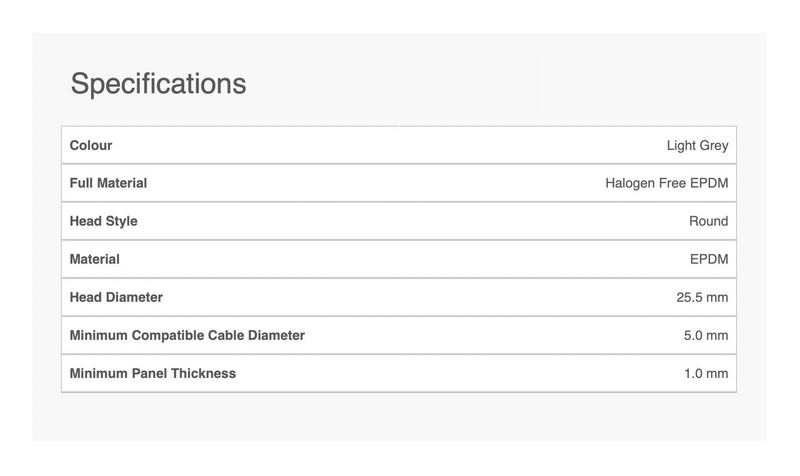 If you're looking for imperial rubber grommets, slide the button from Metric to Imperial to get the same grommet displayed like this: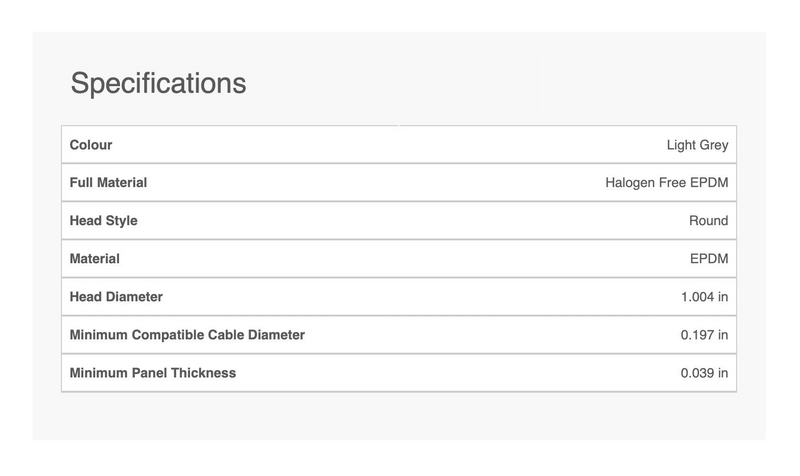 Download free CADs and try before you buy
Free CADs are available for most solutions, which you can download. You can also request free samples to ensure the solution you've chosen is exactly what you need. You might also find helpful How to choose the right grommet.
If you're not quite sure which grommet will work best for your application, our experts are always happy to advise you, whether it's an industrial rubber grommet, flexible rubber grommet, small rubber grommet or anything else that you need. We also offer plastic grommets, so we can help you with that too. Whatever your requirements, you can depend on fast despatch. Request your free samples or download free CADs now.
Questions?
Email us at sales@essentracomponents.co.uk or speak to one of our experts for further information on the ideal solution for your application 0345 528 0474.